---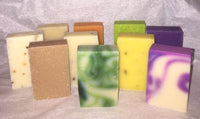 Made with the finest ingredients, this all natural soap will leave your skin soft and refreshed. Choose from the basic unscented to the luxurious Orange Patchouli. A few soaps have gentle exfoliating properties. Each bar weighs 4-5 ounces.
Moonlight  - Activated Charcoal (has a light musky scent)
Sandalwood Rose - Sea Salt ( a soft scent with a gentle exfoliator)
Patchouli - Peppermint Leaves ( love it or not this patchouli is very soothing)
Rosemary Spearmint - Peppermint Leaves (a crisp clean soap)
Cherry Almond - Ground Oatmeal ( a much sought after fragrance)
Lemongrass - Lemongrass ( a very invigorating and enlightening soap)
Jasmine Lime - Ground Oatmeal & Sea Salt ( a clean scent and gentle exfoliator)
Grapefruit Tea Tree - Sea Salt, Ground Oatmeal, Peppermint Leaves ( A favorite of all. This soap is crisp clean and deep cleansing)
All Soaps include the following ingredients: Olive Oil, Coconut Oil, Corn Oil, Sunflower, Organic Shea Butter, Water, Sodium Hydroxide, Fragrance, Color.