---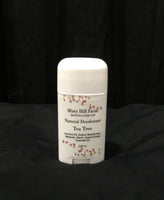 Misty Hill Farms All natural deodorant is handcrafted using natural organic ingredients. Non toxic and soothing, our deodorant is formulated to promote living healthy, naturally.
This natural, organic, homemade deodorant is Paraben and Aluminum free. These toxins can cause duct blockage and can lead to cancer. Sweating is a natural process of the human body and should not be inhibited. It rids the body of toxins and is necessary. This deodorant is not an antiperspirant. Studies have shown that using all natural, non toxic deodorant decreases the amount that a person actually sweats. Therefore there is an adjustment period that your body will have to go through through as these blocked ducts clear. Be patient as this transition can take up to two weeks. This deodorant lasts on average 2 -3  months.
Directions: Use sparingly daily
Ingredients: Arrowroot Powder, Bees Wax, Coconut Oil, Jojoba Oil, Magnesium Sulfate, Shea Butter, Sodium Bicarbonate, Vitamin E Oil, Fragrance or Essential Oil.