---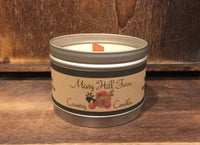 This 8 oz Crackle candle will not disappoint. We use a vegitable based soy wax that is skin safe and all of our candles are free of dyes and toxins. All fragrances are phthalate free. We use two wooden wicks for a brighter glow and soothing Crackle. 
For best results, allow your candle to achieve a full melt upon the first burn as this will allow for a more even burn in the future. When relighting your wooden wick just push off the old, dead wick with your fingers and relight. There is no need to trim the wick. 
We hope that you enjoy your Crackle candle, and please remember to never leave a lit candle unattended. 
The KIDS, DOES and BUCKS here at Misty Hill Farm thank you for your business as it allows them to stay happy and healthy here on the farm.