---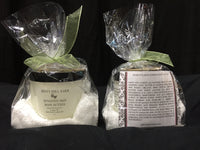 4 oz. or 2 oz. SENSITIVE SKIN WHIPPED BODY BUTTER
Is handcrafted from the finest ORGANIC SHEA BUTTER, MANGO BUTTER and SWEET ALMOND OIL. Rich in vitamins E, A, D, and F, Shea butter is also a wonderful moisturizer and anti wrinkle agent. It treats burns, insect bites, diaper rash, eczema and psoriasis. A generous amount of MANGO BUTTER is added, whipped into pearls and remains slightly intact throughout the whipped butter. It adds UV protection and also heals and protects damaged skin. SWEET ALMOND OIL is added to reduce inflammation, itching and swelling and adds to the smooth texture of the product. The 2 oz. does not include a washcloth.
Thank you for choosing Misty Hill Farm
We appreciate your business.