---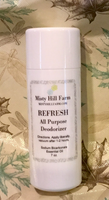 Here at Misty Hill Farm we share our home with a few furry family members and care about their health and safety. However, we also care about the odors that can accompany them. We chose to make our own carpet freshener that is chemical, aluminum and paraben free. We have tested this product on carpeting, pet bedding, in kitty litter, in laundry ( just sprinkle on and after 10-15 minutes shake off ), in sneakers and shoes, on vehicle carpeting, on the bottom of the garbage pail or diaper pail, in the refrigerator, or just in a bowl on the kitchen counter or bathroom. As always, we use only the finest ingredients that are natural and non toxic. 
Aluminum Free Baking Soda is a natural deodorizer. When used on carpets, dog bedding, furniture or shoes, it will help absorb odors and will be removed when vacuumed. 
Essential Oils provide a natural scent and are effective in removing odors and purifying. Choose an essential oil blend that will evoke the mood you seek.
  We hope you enjoy REFRESH as much as we do here at Misty Hill Farm.