---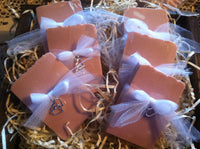 Misty Hill Farm offers "GOAT YOUR GOAT" goat milk soap all occasion favors. Bridal Shower, Baby Shower, or Wedding, goat milk or shea butter soap favors. Your choice of color scheme and scent. Each hand cut soap weighs 1-2 ounces.
We offer many colors and scents for you to choose from, please specify your choice of color and scent when ordering.
 You get to choose the soap you desire. We offer homemade "Got Your Goat" Goat Milk Soap, Shea Butter soap or Glycerin Soap.  All of which are prepared here at Misty Hill Farm.
We offer many scents and colors for our soaps, too many to list them all. We encourage customers to contact us to discuss their desired scents and colors. If we do not have your scent or colors of choice we will make every effort to obtain them for you.
Please contact me via email at
MISTYHILLFARMNH@AOL.COM